If you're reading this, then you know how powerful a tool and medium email is and can be. Read on to discover some effective email marketing tips and tricks, hopefully it helps you get better conversions.
Below are some tips that may help you with your email marketing, the aim: better conversions.
The purpose of most marketing, promotional or business emails is to guide and convince your reader to take an action of some sort. This may include them clicking on a link, reading a blog post, making a purchase, signing up for a special offer or respond to your question with specific information (if you sent out a survey for example).
The desired outcome of what you want your recipient to do is called the email's Call to Action (CTA), and it should be clearly stated as unambiguously as possible within the body of your email.
Tip #1: Get to the Point, and FAST!
In today's busy inbox, you have but a fraction of a second to grab attention and keep it. We all get bombarded with emails throughout the day, to make yours count, you need to get to the point, and fast.
Your headline will be the key to this, so use something catchy.
Most people find emails to be a bothersome yet a necessary part of interacting with other people online. Consequently, they won't appreciate emails that are long on content but short on substance or value.
To maximize the effectiveness of your emails, make certain that they get to the point quickly, use brief sentences or bullet points whenever possible, make use of white space, or spacing between paragraphs, and clearly state your 'call to action' (what you want your reader to do) so that they understand your intention as quickly and clearly as possible.
Tip #2: Use Persuasive Writing
Given their brevity, you have only a few moments in order to get the point of your email across to your reader, so you need to make every word count. Persuasive writing is about understanding what motivates your reader, so as you compose your email think about what your recipients want to achieve by reading it. Make them feel as if their best interests are at the heart of the email.
Be very clear about what you want the reader to do, when you want them to do it and why they should do it, especially in light of how it benefits them. Motivate your reader to act on your CTA by always explaining exactly what's in it for them.
Tip #3: Provide your reader with Consistent and High Value Content
Consistency and valuable content are among the highest priorities in your email marketing campaign I would say.  In this online world, there are thousands of folks vying for attention in the inbox, to stand out and get noticed, you should try to be consistent and provide value.
Consistency ensures your name becomes familiar to your reader. You don't want your name to get lost among the other emails only to be deleted because they don't recall how they got on to your list.
High value content is a sure way to keep your reader glued and interested in the next email. Later on we talk about being of service, but providing valuable content is a powerful way to ensure you have a keen and avid reader, ready to take action.
Reading your email requires your recipients' time and attention, both of which are extremely valuable in business. Make it worth their while by providing high-value content that includes information they will actually find useful.
By always delivering high-value content, you can increase the chances of their opening and reading future emails that you send. Remember, you don't always need to be promoting or selling products or idea in your emails.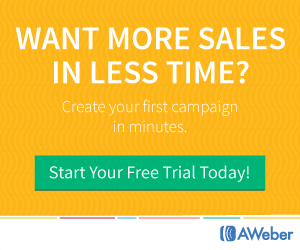 Providing value goes beyond selling or promoting, it's about giving first.
Often, the emails your readers will value the most are those that explain how to do something or share important facts and information they can use.
Tip #4: If possible, use Emotion or Stories to Connect with your reader or subscriber
One of the most effective ways to get your message across to your readers is to connect with them on an emotional level.
Stories: This is most often accomplished by sharing a personal story, even if it's embarrassing. The more emotion you can get, the better your connection.
People love stories and are more likely to read to the end of your email if there is some personal lesson to express or point to be made.
You can increase the effectiveness and popularity of your emails by including details about your personal life, your family, your career, education and other experiences that make your readers care about what you have to say.
Of course, I hope it goes without saying that you should be prudent when sharing your personal information online. What we're referring to here is stories, a bit about yourself, your path or adventure, but always keep in mind that what you put out there is for anyone to see.
Tip #5: Build Relationships by providing value and being of service
The best way to gain the trust of your email readers is by being of service, and well, to just ask for it.
By sharing personal stories and connecting with them on an emotional level and providing content that is high-value, you can make them glad that they read your email. Now seal the deal by asking for their trust and friendship.
With your emails, you don't always want to talk at them, it's sometime nice to get some feedback, and in that, talk to them, thereby creating the relationship.
This doesn't need to be as explicit as asking your readers if they will be your friend, let's be honest, that's not going to go down well. 🙂
Instead, ask them to join you in some cause or to show they care about what you are saying to them by following your CTA (for your reference, CTA is call to action).
Even though these are business emails, always keep the tone friendly and helpful so that your readers can feel invited to consider you a trusted friend rather than just another business associate or sales person.
Conclusion:
I hope these tips have given you some insight into being more effective in your email marketing, hopefully these tips can help you get better conversions, which is a very important metric afterall.
If you don't have access to email marketing software, please check out Aweber, I highly recommend this service: http://imangelo.aweber.com.